During the Coronavirus pandemic we have stepped up measures to maintain hygiene at Belle Vale Shopping Centre, by increasing the cleaning regime and ensuring regular cleaning of touch points such as door handles and hard surfaces.
Everyone who works here has been thoroughly briefed on the steps to take to best keep themselves and customers protected, and we advise all of our customers to follow the guidance issued by the Government, its Chief Medical Officer and Public Health England.
The Health of our customers and staff is our highest priority. Therefore, in order to maintain social distancing when the Shopping Centre re-opens, we have implemented various rules within the Centre. By entering these premises visitors must accept these rules and agree to adhere to them.
From Friday 24th July, face coverings are mandatory in the shops. We encourage shoppers to please abide by these Government rules or you could face a £100 fine.
If you are showing any symptoms of the Virus we kindly ask that you refrain from visiting Belle Vale Shopping Centre and follow guidance issued by The Government.
Click here.
Our toilets will re-open tomorrow, Saturday 4th July, but only 6 persons allowed at any time. Although they will be checked and cleaned regularly through the day, they may be closed periodically for a thorough clean. We ask shoppers to be patient and understanding as we are taking all precautions to keep everyone safe. There are hand sanitiser stations in placed at the entrance to all toilets. PLUS, the first floor car park will re-open on Saturday 4th July and the entrances to the mall / lift foyer has been split into a one way system. One door in and one door out – we ask shoppers to adhere to the signage. We thank you for your cooperation. #DistanceSociallyShopLocally
To help the Centre manage the queues efficiently and to maintain social distancing, please observe these rules when visiting the Centre: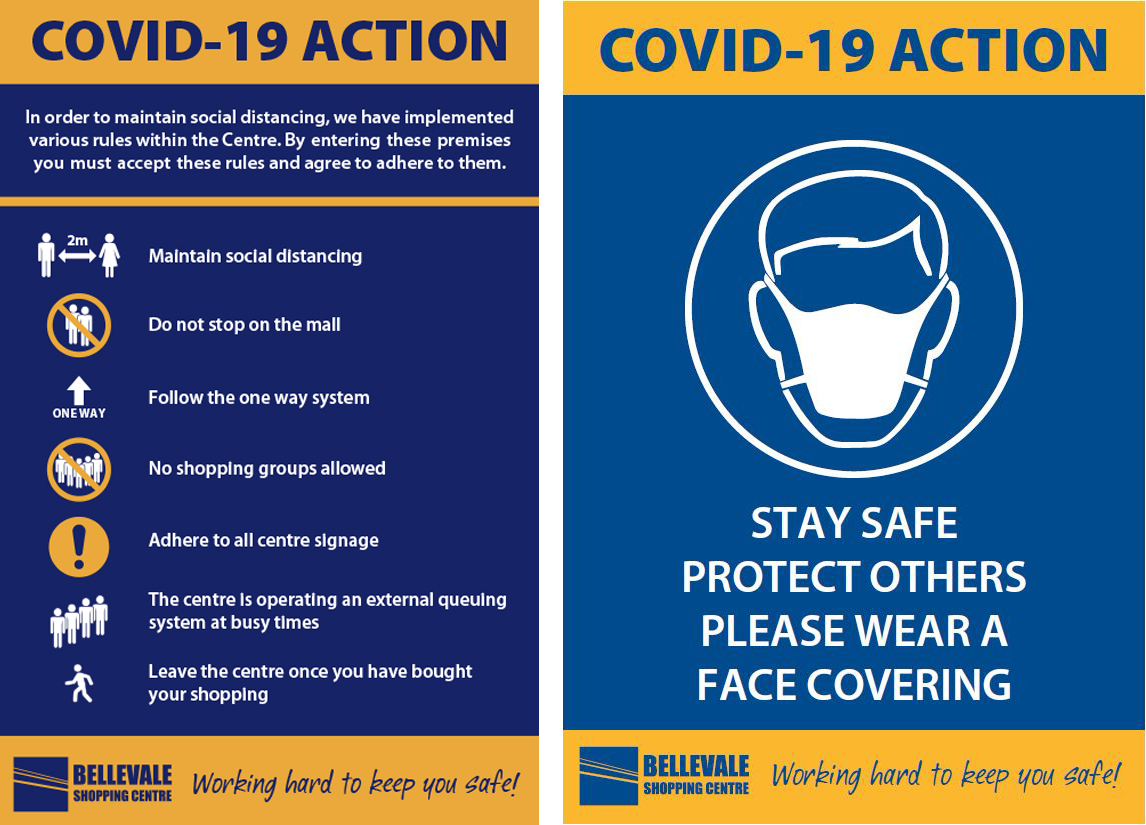 FREQUENTLY ASKED QUESTIONS
Q: I do not feel well at the moment, but I need to collect my prescription from Boots, is it alright if I just pop in and out quickly?
A: No, you should stay at home and follow the advice issued by Public Health England; a link to their website is above. Call a friend or relative to collect your prescription for you.

Q: When will all the stores be open again?
A: The Centre is following the guidance issued by the Government and the Stores will re-open once the Government announces they are allowed to do so. Regular updates will be made on this website and our social media sites. Links to our Social Media sites can be found on this page.

Q: When will all the public facilities be available again?
A: Whilst there is a risk of the virus spreading, we have been advised to reduce access to a number of public facilities, including the toilets. The Centre has limited resources during the pandemic and as such the facilities can not be cleaned as often as required, should they be open. To reduce the risk of the virus spreading in these areas, they will remain closed until further notice. The Centre has sanitising stations available on the mall for you to use free of charge.

Q: Can I go shopping with my family or friends at the Centre, as I haven't seen them for a while?
A: No, this is not permitted at this time. The Centre can only accommodate so many visitors in the malls at any one time, to maintain social distancing rules. An external queue will be in operation at peak times and to keep this moving quickly, we need visitors to do their shopping then leave the Centre as soon as possible.

Q: I am a single parent and do not have anyone to look after my children whilst I go shopping. What can I do?
A: We will make an allowance for circumstances such as this and you will be permitted entry to shop with your children. You will need to ensure that your children observe the social distance rule and are not left wandering on their own. However, if a family with two parents and children arrive, only one adult will be permitted entry.

Q: Do I need to wear a face mask in the Centre?
A: It is currently advised that you wear a face covering at the shops, on public transport, and in enclosed public areas which includes our shopping centre. From Friday 24th July, face coverings will be mandatory in the centre and its retailers. Unless exempt from wearing a face covering, customers must abide by these Government rules or could face a £100 fine.

Q: Do I need to wear gloves at the Centre?
A: It is not good practice to wear gloves all the time as this contributes to spreading germs on everything you touch. It is better to wash or sanitise your hands more regularly. The Centre has sanitising stations available on the mall for you to use free of charge.
Advice to shoppers from PHE:
• Do not touch your face.
• Do not touch your phone.
• Practice social distancing while in the store.
• Limit the items or surfaces that you need to touch.
• Sanitise your hands when you transition from your car to the Centre and in between stores, if possible.
• Immediately wash your hands when you get home after unloading.

Q: If I develop symptoms after shopping at the Centre, do I need to inform the Centre Management?
A: We advise all visitors to follow the advice given by Public Health England and you can find a link to their website above. It is not necessary to advise the Centre Management unless you are employed in one of the Stores.

Q: Will the Centre trading hours change?
A: The Centre hours will remain as current; however, store trading times may vary. You can find the trading hours for each store in the store directory page of the website.